Karen Karapetyan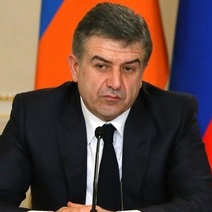 Karen Vilhelmi Karapetyan is an Armenian politician who was Prime Minister of Armenia from September 2016 until April 2018. He was previously Mayor of Yerevan, the capital, from 2010 to 2011.

Karapetyan was chief executive of the Armenian-Russian joint venture ArmRosGazprom beginning in 2001. He became Mayor of Yerevan on 17 December 2010 after receiving overwhelming support from the municipal assembly.

Karapetyan resigned as Mayor on 28 October 2011 and in November 2011 Taron Margaryan was elected mayor in his place. After his resignation, he returned to Russia to continue working for Gazprom. He was appointed as Prime Minister by President Serzh Sargsyan on 13 September 2016 and held office until 9 April 2018.