Cooperative AI - Foundation

Non-Profit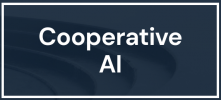 As announced in a May 4 2021 Nature commentary, the Cooperative AI Foundation (CAIF) is a forthcoming charitable entity, backed by an initial philanthropic commitment from the Center on Emerging Risk Research of $15 million. CAIF's mission will be to support research that will improve the cooperative intelligence of advanced AI systems for the benefit of all of humanity.

Activities of CAIF will include efforts to support and extend work on methods and topics in cooperative intelligence across multiple communities within AI and computer science, as well as adjacent disciplines.