Zipline Medical

Company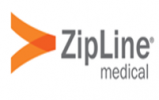 Zipline Medical develops tissue repair devices as a solution for non- invasive skin closure.
ZipLine® Medical is developing and commercializing innovative tissue repair devices to address the clinical need for rapid, non-invasive and easy-to-use skin closure. ZipLine's PRELOC™ technology platform provides uniform closure forces while minimizing scar-promoting tension along the wound. Utilizing our patented technology, we believe that physicians can achieve the best of both worlds — the speed of staples with the cosmetic outcome of a meticulous suture closure.
Our initial strategy focuses on procedures where the speed and cosmetic benefits of our technology as well as the reduced risk of surgical site infections have the greatest impact. Since skin closure is a part of most surgical procedures, our technology platform has broad application across various surgical specialties and emergency medicine.
ZipLine Medical was founded in 2009 by Amir Belson, M.D. and is located in Silicon Valley, with access to a wealth of expertise in medical device research and development .
Technology:
Beauty Medicine
Headquarters:
United Kingdom
Funding Status:
Late Stage Venture
Estimated Revenue:
$1M to $10M
Last Funding Type:
Series F
---
Register and Claim Ownership